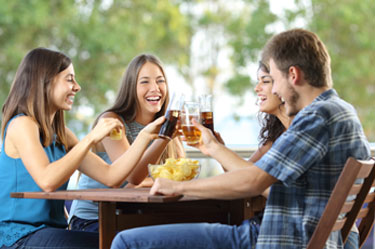 Menus for Millennials
Millennials (born 1977-1995) are a major source of revenue for many restaurants and bars. Baby boomers (1946-1964), on average, eat out once per week, while millennials average three times that number. A survey report by Bankrate, states 51% of millennials visit a bar at least once per week and 54% eat out or order take out, three times per week. According to Food and Wine, the average is five times per week!
Why design a menu for millennials?
In short, it's an opportunity to increase sales. Fewer baby boomers are eating out, so catering your menu selections to a millennial audience is an option to consider. Another factor is that according to a recent report in Forbes, millennials spend 44% of their food budget on eating out. It is important to keep in mind that there are significant dining habit differences between millennials and baby boomers. In order to maximize the potential of catering to millennials, a restaurant should keep up to date with dining trends.
"These trends have caused a rise not just in going out, but in the explosion of the fast-casual chain, which observers note will soon overtake fast food. By offering healthier choices that someone can get on the go, fast casual's quality and availability have allowed it to become one of the primary options for millennials. Furthermore, these restaurants generally offer much more variety than their fast food counterparts, which gives them a significant edge." Source: Forbes 2017
What changes?
To capture those sales dollars, restaurants need to consider what this type of customer is looking for in a meal. Surveys have shown millennials prefer healthy, somewhat sophisticated meals. They lean toward menu items that are noted to be free from GMOs, sugar, gluten and other items that have been deemed a health risk. They like products that are locally sourced, organic, low calorie and sustainably sound. Younger diners are more concerned with ingredients (or lack of them) from genetically modified foods. A Nielsen report showed one third of millennials said they prioritize healthy attributes in the food they buy. A more important finding was that 29% said they would pay more for it. Updating menu items and printed menus to address this younger audience may be a key to growing revenue. At the same time, restaurants should look at optimizing their menu design for higher profits. (Contact MenuWorks® to learn more about menu optimization design.)
Another point to consider is the passion millennials have for small batch alcohol. Craft beers and distillery products are being added to many fast-casual establishments. Utilizing a stand-alone beverage menu on each of your tables is another way to increase sales.
According to a consumer research study conducted by Next Level Marketing, 90% of consumers read drink menus in a bar or restaurant. For a quarter of them, it's how they decide what to order. More than half of the consumers said they prefer a stand-alone drink menu and nearly six out of 10 surveyed said they want the drink menu to be left on the table at all times.
Marketing to millennials
20% of millennials get their food news from Facebook posts by friends or restaurants using Facebook as a marketing media. Another tactic often used by restaurants is direct mail using a postcard. Postcards are an inexpensive means to reach a large audience, which can be especially effective if your customer base is largely located in close proximity to your location. Using the USPS EDDM (Every Door Direct Mail) program you can reach the masses in your area, or you can purchase a list based on age to specifically target the regional millennial population. Using oversized or plastic postcards has been shown to increase response rates. Adding value to the postcard in the form of a redeemable coupon can drive customers in the door, while also making it easier to track the success of a marketing campaign. Acosta, a CPG consultancy, found that 51% of millennials said they look for coupons or online offers for restaurants in order to save an extra buck.
Summary
Millennials are a strong buying force in the US economy. The fact they spend nearly 44% of their food budget on dining out means they are a great target customer for restaurants open to updating their menus with selections catering to the wants and needs of this generation. Combining new selections with menu optimization can help drive sales and profits.
About MenuWorks®
MenuWorks® was founded in 1994 with the mission of providing independent restaurant owners with affordably priced menus that were creative in design and unique in construction. Today, we offer a full turn-key experience that is unique to the market that can assist with all your menu & restaurant marketing needs. Our customer base now includes independent restaurant operators, multi-unit & franchise restaurant groups, hotel properties, and ad agencies located in the US, Canada, Mexico, Latin America, Central America, South America, and the Caribbean. From building and developing your brand, to maximizing menu profits, our team of consultants is here to help. Call us at 864-877-7007 today!