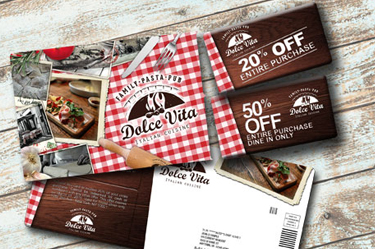 Using Direct Mail to Drive Sales
Direct mail in a postcard format has been an effective marketing tool for many years and continues to be one of the most successful media for driving customer responses. A postcard direct mail program does not have to be complicated, but there are some guidelines that should be followed.
The List
A very important component of any direct mail program is the list. You may have a list of customers you have acquired through previous campaigns or you may need to acquire a list. List acquisition can be very targeted. If your menu caters to a specific generation, type of family or household income, you can use these demographics to secure a more targeted and accurate list for your mailing. If your target customer is everyone within a specific driving radius, you can also consider using the USPS Every Door Direct Mail. EDDM may be a lower cost; however, what you save in postage costs you may lose in response rate. Personalized direct mail is your best option.
The Message
Once you determine who will receive your direct mail campaign, you need to decide what your message or offer will say. Postcards are effective because they are a quick read message. You want your message to be short and valuable to the reader. Perhaps you are promoting a new seasonal menu or maybe it's a general description of your restaurant. Highlighting special aspects of your restaurant can impact response rates. Consider featuring restaurant qualities such as family-owned, gluten-free menu items available, daily specials or happy hour times. Naturally, your location, phone and hours should be shown, as well as your website. You can make the direct mail campaign more effective by tailoring the message offer to the recipient. (We'll cover this in more detail in another post.)
The Graphics
The old adage, "a picture is worth a thousand words" is very true. High-color food graphics can impact a recipient as much as a discount. If your campaign is targeting evening dining, you will want to use images of your main (and most profitable) dishes. If your primary audience is families with kids, then the graphics should show those types of foods. Pubs or microbrew restaurants may want to use images of their finest sandwich displayed in their bar setting. If your restaurant has other features that make you unique, then you may want to have those photographs built into the mailer. Keep in mind, the visual message can be just as important to the recipient as the text message or offer.
The Mailer
Postcards stand out in someone's mailbox because they are different than everything else. Postcards that are larger in size give you more print space to promote your restaurant. An even better option is a laminated postcard. Plastic postcards can generate as much as 8x the typical response rate. Options like pop-out segments can be used that help engage the reader in the mailer. Coupon cards can be removed to be placed in a purse or wallet to drive new and returning customers. By using a digital printing process, you can also vary the offer to test what works best.
For example, you can mail a target group of 250 people a 10% discount offer and a second group of 250 offering a free glass of wine with their meal to determine what offer generates the best results. If you choose to offer a pop-out coupon to entice the recipient, you should also consider calling it a "gift card" versus a coupon. Gift cards have a high redemption rate. The card on your mailer would carry no stored value, only a redeemable value if brought in with the customer. A simple change in terminology can impact your response rates.
Summary
Direct mail can be an effective means of promoting your restaurant to people in your geographical reach or further. Using the correct contact list, design, graphics and postcard format can greatly impact your results.
About MenuWorks®
MenuWorks® was founded in 1994 with the mission of providing independent restaurant owners with affordably priced menus that were creative in design and unique in construction. Today, we offer a full turn-key experience that is unique to the market that can assist with all your menu & restaurant marketing needs. Our customer base now includes independent restaurant operators, multi-unit & franchise restaurant groups, hotel properties, and ad agencies located in the US, Canada, Mexico, Latin America, Central America, South America, and the Caribbean. From building and developing your brand, to maximizing menu profits, our team of consultants is here to help. Call us at 864-877-7007 today!