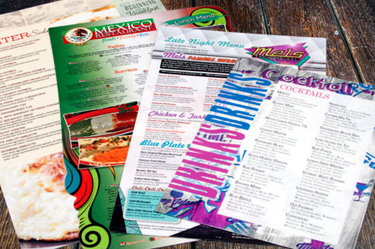 Be Easy to Buy From
One of the oldest business rules in the book, being easy to buy from applies to your menus just as much as your available parking. Great menus are not designed to just look good, they are designed to engage the patron and lead them to a decision. The decision to dine at your establishment has already been made, now your challenge is to help them decide what to buy. A professionally designed menu can help you drive those decisions.
Graphics and Color
High-impact, full-color photography incorporated into your menu will elicit the mouthwatering engagement you need to earn high-profit margin sales. Colors play a vital role in meal selection as well. Green implies freshness, yellow grabs attention and red is often used to drive action in the form of a selection. Whether it's the world's best pub burger or the freshest seafood, vibrant graphics should be utilized to create higher levels of engagement and purchase.
Beyond the Imagery
While graphics help capture a customer's eye, the description of the selection is also a powerful sales tool. Using product-specific terms such as "line-caught," "sun-dried" or "organic" can increase the likeliness of purchase. Many restaurants choose to remove the dollar sign as a subliminal means to move the eye away from the price. Others use text to spell out the price, which has been shown to increase meal purchases. Another tactic is to create a longer-form descriptions of the product, referred to as "storytelling." All of these text-based ideas can be used in menu design to generate higher margin sales.
Optimized for Profit
Menu optimization is the process of taking menu items and placing them in specific areas on the menu that have the highest frequency of purchase. In effect, the design leads the customer to food items that are more profitable and away from lower-margin items. Combining this design tactic with other elements such as photography, descriptions and product logos in specific areas can improve revenue. An example of an optimized menu can be seen here.
Summary
Once a patron has entered your restaurant, the sale, in effect, has been made. Increasing the opportunity for higher profit requires expertise in menu design, optimization and high-quality printing. Your menu is one of the best marketing tools for you to capture higher margins and returning customers.
About MenuWorks
MenuWorks® was founded in 1994 with the mission of providing independent restaurant owners with affordably priced menus that were creative in design and unique in construction. Today, we offer a unique, full turn-key experience, for all your menu and restaurant marketing needs. Our client base now includes independent restaurant operators, multi-unit & franchise restaurant groups, hotel properties, and ad agencies located in the US, Canada, Mexico, Latin America, Central America, South America, and the Caribbean. From building and developing your brand, to maximizing menu profits, our team of consultants is here to help! Call us at 864-877-7007 today!