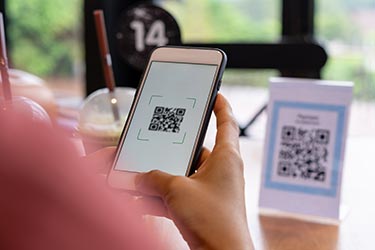 Are QR Codes Alienating Some of Your Best Customers?
The Covid-19 pandemic gave a huge boost to the use of QR codes for all types of businesses, especially restaurants shelving their repeat-use menus and encouraging contactless ordering. Now that things are shifting back to normal all across the United States, it's time to review the pitfalls and rethink using QR technology.
Originally utilized by manufacturers to convey detailed information in lieu of a barcode, QR codes make a lot of sense in industrial applications. However, used on a consumer level, some businesses failed to factor in the user experience, moreover, what types of people would not use a QR code for daily exchanges, such as ordering from a menu.
During the pandemic, one restaurant owner in Washington, DC noticed that patrons over the age of 50 preferred to place their orders directly from his staff. In the past, surveys showed the highest concentrated use of QR codes was found with individuals between the ages of 25 and 54. However, the majority of users included in this age range were between 35-44 years old. Hence, that Washington restauranteur's observation was indeed telling.
Research has also shown that many individuals over the age of 65 do not have smartphones even capable of scanning a code. A recent study by YouGov America revealed that 14% of Americans find QR codes difficult to use, with 20% of adults age 65+ especially likely to say so. An additional 18% of this older demographic had never heard of QR codes. Another drawback is that QR code menus require access to the internet. Additionally, any landing page linked to a QR code must be ADA-compliant per the Americans with Disabilities Act and easily translated.
As a restaurant operator, you must ask yourself not only who are my customers but which of my customers may not wholly give in to the use of technology for the ordering process? Are you alienating any of your spending public? If you migrated to QR code menus during the pandemic, it's time to consider coming back to the tried and true traditional menu, or perhaps, incorporate both per your entire clientele's wants and needs.
How to transition back to traditional menus? An appealing and safe option is utilizing laminated menus that withstand necessary cleaning and sanitizing. Additionally, laminated menus now can incorporate antimicrobials directly in the laminated substrate, such as globally recognized Microban®.1 (Plus, if you still wish to offer a QR code option, rather than continue the wasteful, non-eco-friendly practice of disposable menus, you can create laminated antimicrobial versions of this type of menu as well.)
As everyone returns to a more normal life, diners want to feel welcome and relaxed. Nothing replaces the feeling of settling in at their table or booth and scanning at an enticing menu with their eyes – not their phones – while having all the tasty food photos, prices, and brand imaging right at their fingertips, and engaging with your wait staff.
MenuWorks is at your service as your business forges ahead with our durable selection of laminated menus2 that stand up to all the cleaning and disinfecting necessary to keep customers safe and happy. If your restaurant or chain is in need of sturdy, easy-to-clean waterproof and antimicrobial laminated menus and table tents, contact one of MenuWorks' experienced account managers to This email address is being protected from spambots. You need JavaScript enabled to view it. of products in assorted styles and sizes for reference and inspiration. MenuWorks also offers expert design services for convenient one-stop shopping, so be sure to ask for samples designed by our talented in-house team as well.
----------------------
1 Microban® like other antimicrobials directly built into products, provides antimicrobial protection from bacterial growth, stains, and odors. MenuWorks is pleased to include Microban® antimicrobial protection at no additional charge.
2 MenuWorks' laminated menus are 100% waterproof, enabling quick and easy cleaning, durability, and longer life. Our waterproof menus feature a flush cut edge that protects the synthetic core, making them secure and water tight.