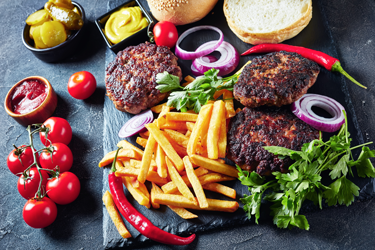 Restaurants:
Maximize Sales with User-Friendly Meal Kits
With companies like Home Chef, HelloFresh, Blue Apron, and more stirring up the home meal kit sector over the last several years, there's been a consumer shift in preparing home cooked meals with pre-sourced recipes and ingredients. In addition to a positive do-it-yourself feel, meal kits save time from a shopping perspective, provide easy-to-make tasty dishes, and have definitely appealed to those staying close to home during the pandemic. The latter has been a real driver for restaurants to shift to this space and over the past year, chain restaurant brands have led the way in crafting DIY meal kits and family meal bundles (i.e., feeding 4-6 people) for customers to enjoy at home.
What Some of the Top Chains are Doing
Taco Bell features "At Home Taco Kits," Denny's offers any array of "Shareable Family Packs" that can cover every meal of the day, Smash Burger's "Take & Make" options feature burgers to make at home, and California Pizza Kitchen sells 5 different meal kits including a dessert kit. Pricing is based on the number of people each meal kit or family pack feeds and also varies depending on the protein. Even Baskin-Robins has scooped into this trend with their "Do-It-Yourself Baskin-Robbins Sundae Kits."
Smaller Restaurants Also Benefit by Creating Meal Kits
Since people have been spending way more time at home, they're seeking additional ways to make their in-home experiences more pleasant, creative, and memorable. Meal kit dining options provide them with a little hands-on fun and a sense of satisfaction, along with a great meal. Restaurants of all sizes can craft meal kits based on their top sellers to keep their patrons happily enjoying their favorite dishes at home – while also keeping your restaurant fresh in their mind. In addition to contactless pick-up and delivery options, outdoor dining, and social distancing, creating meal kit favorites will help enhance your bottom line. They are also another way to keep kitchen staff working, so it's a win all around. Best of all, meal kits can be easily made available to your customers, following safety protocols in the kitchen as well as contactless pick-up and delivery.
How to Create Your Restaurant's Must-Have Meal Kits
Start with 2 or 3 favorites. (Think: Best sellers with the highest profitability)
Also consider creating special themed kits for holidays or seasonal meals.
Determine how many portions each kit will make/number of people it will feed.
Breakdown the ingredients on paper so you can map out the full picture of what's needed.
Decide what can be prepared/blended in advance to make any or all of the components as easy as possible to mix, bake, grill, etc. at home.
Devise how to best to package each component and the kit overall. Keep in mind, numbering the components will be a huge help!
Draft the simplest form of directions that will make the most sense for at home cooks of all levels. Steps 1, 2, 3, and so on will work like a charm!
Price accordingly, taking market pricing, labor, packaging, and printed instructions into consideration.
Be sure to test out your meal kits before marketing! Give some kits to your wait staff and friends to try at home, get their feedback on the ease of making the meal, the taste, etc.; gather their input on different price points, and adjust from there, if/as needed.
Promote your new meal kits everywhere!

Online on your web site, delivery service menus, and social media (plus, via email, if you've captured this info from customers)
With window and/or door signage at your establishment
Include them on table tents, menu inserts, and takeout menus at your establishment
In addition to all you're doing to keep customers coming to your location, be it takeout meals, outdoor seating, and/or socially-distanced indoor dining, meal kits can make a terrific addition to your offerings and revenue stream.
MenuWorks is here to help as your business forges ahead with a vast array of durable waterproof and antimicrobial menus, inserts, and table tents (built for all the cleaning/disinfecting our world demands). If your restaurant or chain is in need of easy-to-clean laminated menus and table tents -- or is updating prices and offerings, such as adding meal kits and more, to reflect current times -- contact one of MenuWorks' experienced account managers to This email address is being protected from spambots. You need JavaScript enabled to view it. of products in assorted styles and sizes for reference and inspiration. MenuWorks also offers expert design services for convenient one-stop shopping, so be sure to ask for samples designed by our talented in-house team as well.