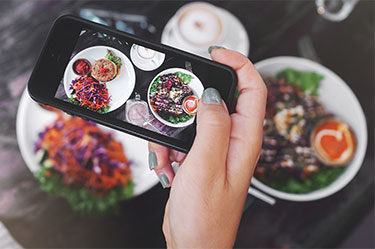 Menu Photos That Look Good Enough to Eat
Enticing menu photos are a great way to gain your customers' interest and influence their orders. By following some simple rules when planning and shooting your selections, you can achieve images that will engage and retain your restaurant's customers. To help with your shoot, we've compiled a list of simple tips for picture-perfect menu photos.
1. Optimal lighting is a must.
Fancy lighting is not required! Use natural light, shooting near a window or go outside. Shooting around 10am or 3pm is best, yielding softer light and helping prevent heavy shadows. If daylight isn't an option, utilize one overhead light source to provide the best light for your dishes.
2. Understand your camera's settings before your shoot.
Take a little time to explore your digital camera or smartphone settings and take some test photos before shoot day. Keep track of settings used so you can replicate the best ones for the shoot. Again, no fancy equipment is needed. Today's phone cameras take professional looking photos. For quality shots, set your phone or digital camera to the highest resolution (the largest file size.) For iPhones, select the HDR setting found at the top of the screen when you're in camera mode. For Androids, when in camera mode, go into settings and select the largest resolution offered. You can test various flash and light settings on your phone or camera as well.
3. Make sure your food is ready for its close up.
Heed these 3 important details… 1) Plan in advance. Know which dishes you want to shoot and write up a shot list. 2) Garnishing selections make menu photos come alive. To add interest, dress dishes with sprigs of parsley, lemon wedges, a baked roll or bread on the side, etc. 3). Stay true to your dish and its presentation. An attractive photo is great but not if it looks nothing like the plate that ends up in front of your customer. A nice looking, true-to-the-dish photo is what you need to succeed.
4. Shoot at an angle.
Even if you've created a gorgeous plate, the dish will fall flat if you don't capture it from the correct angle. Avoid shooting overhead, straight down because you'll lose the depth and details. For example, say you've got a heaping mountain of mashed potatoes. Shot at an angle you can see how tall it sits on the plate; shot from above, you'll just get a flat blob of potatoes. (Speaking of garnish, consider how much more appealing mashed potatoes shot at the proper angle will be with gravy on them.) Angles help show depth, offer some variations in lighting, and are more visually interesting. Take a few shots from different angles to give yourself options. Food shots look more realistic with angles -- not flat and boring -- and help get a reaction (orders!) from customers. Note: One exception where you wouldn't use an angle, is when there's a table composed of several dishes. Shooting straight down in this instance shows an interesting, colorful spread.
5. Steady now!
While you can shoot with a hand-held camera or phone, consider investing in a small tripod to avoid any shaking. Tripods come in adjustable tabletop and telescoping sizes, priced as low as $15-$25. Make sure the tripod includes a tilt head and compatible holder or attachment for your phone or camera.
6. Edit like a pro with a user-friendly editing program or app.
There are many inexpensive, easy-to-use photo editing programs and apps to enable you to tweak your photos for the best results. Bright, colorful and sharp images are most appealing in any menu design. No need to be a pro; just play with a program a bit to get acquainted. You can even experiment with some free trials before you buy. And don't forget to check user reviews for insights.
Simple adjustments like boosting the vibrancy of your shots (often apps/programs have an auto enhance function which is a good starting point), lightly sharpening images by increasing contrast or clarity, and lifting dark shadows give photos a quick clean up. Save files under different names as you go along to be sure you don't lose or edit over any you like. Once you've finalized your photos, you're ready to design your menu.
If your restaurant is looking for durable, attractive menus, contact one of MenuWorks' experienced account managers for more ideas and to receive a sample pack of menus in various styles and sizes for reference and inspiration. MenuWorks also offers expert design services for convenient one-stop shopping, so be sure to ask for samples designed by our talented in-house team as well.