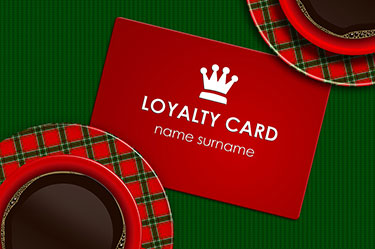 Once They Nibble, Keep Them Biting: The Delicious Taste of Successful Restaurant Customer Loyalty Programs
Anyone in the restaurant business knows (or should know!) that customer loyalty is crucial in today's competitive market. With the economy playing a role in consumer spending, it's important to have an edge. At MenuWorks, we specialize in creating memorable and successful customer loyalty cards for small restaurants to large chains to help keep seats filled and customers happy.
It's All in the Cards
From perceived value to branding to recognition, your loyalty program's card carries a lot of weight! Your logo, corporate colors, location(s), and more are always on hand in your customer's pocket. And, patrons appreciate the special treatment from your program's benefits.
Key Elements of Your Winning Customer Loyalty Card:
Your brand image, loud & clear. Logo, tagline, and recognizable colors all play a role in your business identity as well as the appeal of your card.
Your offer. What benefit(s) make the most sense for you and what will incentivize your customers – a free entree after 10 visits, 10% off every time they dine, special monthly perks, or a birthday bonus? Know your customer, consider the impact to your bottom line, decide what perk(s) work, and present them as an exclusive for the cardholder. On the back of your card, include the specific offer or short bulleted list of benefits. Make sure the action and reward(s) are presented in a clear-cut, easy to understand manner.
Depending on your POS System's functionality, do you want your card to include a unique customer ID or scannable barcode to track visits and sales to issue points and more? Or, if your smaller establishment is less technically-inclined, will you utilize a stamp, sticker, or punch-hole in the card each time your customer visits your establishment? (If going the latter "manual" route, be sure to have enough cards in stock as old cards are completed with however many visits you decide.)
Staff education. By properly informing your employees about the program and its benefits, wait staff, bartenders, and host/hostesses can call attention to the program and promote it to customers. They'll also be able to competently answer any questions your cardholding guests have. Returning customers also mean more tips from "regulars," so be sure your staff understands how your program works and encourages guests to participate.
Implementation & Integration
How you implement your loyalty program is important. Are you simply handing out the card with a check or at your register, or are you gathering customer information either with a short form on the guest check or online? Keep in mind, in our digital world, it makes (dollars and) sense to collect data such as name, email address, even a birthday. Emails allow you to remind customers about your loyalty program, provide additional incentives such as monthly, holiday, and special promotions, and also offer them a birthday or anniversary dish or dessert on the house. Information is power, so the more details you amass on your customer base, the more ways you can utilize this to enhance your loyalty program's marketing and effectiveness.
Is there an App for that? Are you leveraging technology with your customer loyalty program? We all know millennials love their technology, so customer numbers and barcodes translate well for use in a loyalty app as well. In addition to your loyalty card, explore ways to offer added program incentives and reminders through your app. (Hey, you can't spell appetite without a-p-p!)
Speaking of millennials – and a majority of baby boomers – it's important to connect with customers through social media on a promotional level in general, and to also maximize your loyalty program. Spread the word on Facebook, Twitter and Instagram. Don't forget to include images of your loyalty card plus links to sign up online (add a Join Now button to your web site as well). Promote the perks and cardholder-only offers on social media and be sure to add some great shots of your establishment and specialty dishes too!
Food for Thought: Restaurant Loyalty Facts & Figures
76% of restaurant guests note immediate benefits are more appealing than accumulating points. 1
58% of restaurant guests would exchange personal details for personalized promotions. 2
88% of consumers note redeeming loyalty points on new food recommendations based on purchase history as appealing. 3
52% of consumers will recommend to others the restaurants they are most loyal to. 4
Keep it Fresh
Remember, once you've got your restaurant's customer loyalty program in place, your job does not stop there. You've got to keep up with the times – and competition – by freshening things up every 12-18 months, encompassing everything from the look of your card to program benefits. If your business undergoes a logo update or rebranding and/or a menu overhaul, be sure to stay current and update your loyalty program to keep your latest image and offerings in the minds, wallets, and phones of returning customers.
If you're looking to have your customers eat and repeat through a loyalty program, contact one of MenuWorks' experienced account managers for more ideas and to receive a sample pack of customer loyalty cards for reference and inspiration.
----------------------------------
Source:
1-4. Oracle Hospitality, The Loyalty Divide – Operator and Consumer Perspectives, Restaurant 2018