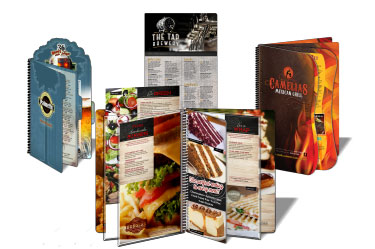 What's on your Menu
Recently, MenuWorks was featured in Bar Business Magazine's May issue, in an article titled "What's on your Menu." Here is an excerpt from that article:
MenuWorks specializes in laminated, waterproof menus. "Our menus are available in coil, flat, bifold, and trifold solutions," says Amanda Marcengill, Inside Sales Manager. "In addition to laminated menus, we also offer café covers, royal covers, to-go menus, kids placemats, and table tents."
Since MenuWorks is also the manufacturer, they are able to offer a wide variety of shapes and sizes. They also invest time to work with their clients to create special shapes in order to promote specific brands.
Menus are your establishment's largest advertising opportunity, and they are viewed by 100% of your clientele. So good design is a critical component. "It's an opportunity to realize your brand," says Marcengill. "Good design should be clean, easy to interpret, and appealing to the eye, all while helping drive your clientele to high-profit menu items."
The process of working with MenuWorks is designed to be easy. "To get started, we would need the bar/restaurant logo, menu content, and any photography that would need to be included," says Marcengill, who notes they also offer a large online photography resource for clients who are unable to supply their own photography or logos. "Once we receive the content, our team will schedule a call to better understand your brand and the overall look and feel that you want in your menu."
You may feel like you can handle the design yourself and don't need to work with a company on creating your bar's menus. But teaming up with a company like MenuWorks means you have an award-winning team at your fingertips. "Our team members are experts in menu design and optimization," says Marcengill, who explains that once they understand what their clients are trying to accomplish with the overall design of their menu, they will make recommendations to take their menu to the next level. "We focus heavily on proper menu optimization to ensure a connection with your patrons while helping increase your bar/restaurant sales. Our clients see an average increase in sales of 8-10% when our team designs their menus."
Above all else, Marcengill says that the MenuWorks team is there to help make your menu the best it can be. They also strive to make the whole process as painless as possible. "We are passionate about creating better menus and helping bars/restaurants present a menu that they can be proud of while increasing their sales."
On top of customer service, they also offer Microban Antimicrobial Technology on their menus. "We are the only menu provider in the world to offer this technology," says Marcengill.
For the full article, visit http://www.barbizmag.com/how-to/whats-on-your-menu/
Check out Bar Business Magazine and the full May issue for hot restaurant tips and tricks. https://issuu.com/barbusinessmagazine/docs/bar_business_may_2018
About MenuWorks®
MenuWorks® was founded in 1994 with the mission of providing independent restaurant owners with affordably priced menus that were creative in design and unique in construction. Today, we offer a full turn-key experience that is unique to the market that can assist with all your menu & restaurant marketing needs. Our customer base now includes independent restaurant operators, multi-unit & franchise restaurant groups, hotel properties, and ad agencies located in the US, Canada, Mexico, Latin America, Central America, South America, and the Caribbean. From building and developing your brand, to maximizing menu profits, our team of consultants is here to help. Call us at 864-877-7007 today!