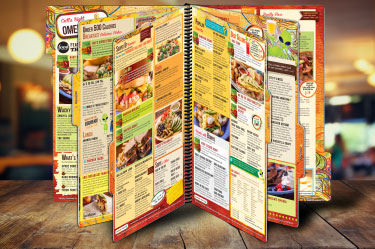 Focus on The Outcomes
In a recent issue of Restaurant News, there was an interesting article by Jim Sullivan (Professional speaker and author) titled "10 Things That Won't Change for Restaurants in 2018." One of the takeaways was to focus on the outcomes. This caught our attention, as a custom menu provider, since we realize the importance of menu design in driving positive results.
Definition of crazy
Someone once said the definition of crazy was doing the same thing over and over and expecting a different result. The same can be said for menu. Even if your menu offering does not change often, updating old menus can improve sales and profitability. Worn-out menus lose their durability. Edges can become rough and damaged giving off a poor professional image. "If the menus look like this, I wonder what the kitchen looks like?" Paper menus can be especially susceptible to stains and damage. Menus printed on synthetic material may look durable, but the ink (or toner if printed digitally) can rub off with cleaning and regular use. Laminated menus provide durability and protection of the printing and graphics.
Color and graphics
Both the printing and feel of a menu send a message. Menus with few product images, or images that are poor representations of the food, can impact the client's purchase. Menus often lack proper descriptions of meals. Recent studies have shown that using accurate descriptions that may include key words like "locally grown," "organic" or "free from" various additives can boost sales. The old story that a picture is worth a thousand words is true, especially when the customer is hungry and the menu has high resolution images of appetizing food.
Location, location, location
In the earliest days of marketing, the old adage was "location, location, location." At that time, the reference was to a store's physical location. Now, the same is true for the positioning of your meal offerings on your menu. Menu optimization is a process in which we take your highest profit items and place them in areas that naturally and consistently draw the customer's gaze. A combination of description, high color graphics and positioning can increase sales and profits.