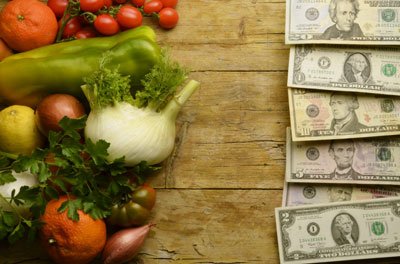 Keep On Top of Rising Restaurant Costs
It's no longer news that supply chain issues are raising the price of many products and ingredients restaurants use and that employee salaries are also contributing to increased costs. The good news is that restaurants can and should effectively address this -- the sooner, the better.
Now's the time to mitigate rising food costs, and this doesn't mean drastic changes. Whatever the new normal is in your area, consumers are adjusting to and accepting the fact that some things they like, want or need will just cost more. So, it's perfectly fine to review your costs and make much needed updates to your menus to cover increased expenses. If you've taken a wait and see attitude and put off pricing updates, odds are you're missing out covering your increased expenses, so updating your menus should be done as soon as possible.
Yes, there are costs associated with revamping your menu, but it comes at a greater expense to you if you don't. It's time to balance the dollars going out with additional revenue coming in!
Let's look at ways restaurants can decrease and/or stabilize costs:
Understand Your Pricing. Know exactly how much it costs to make the dishes you serve. You'd be surprised at how many establishments don't – and their pricing (and revenue) is sorely missing out by not accounting for what things really cost.
Focus on Higher Margin Menu Items. Once you know how much things cost, you also know which selections bring in the most profit.
Portion Control. This goes in tandem with pricing your menu items. Work with your team to set standards and make sure they adhere to this in the kitchen – and on the plate.
Implement the First In, First Out Method. Utilizing the first in-first out method (FIFO) means that you use the first ingredients you stocked in your refrigerators and pantries first. Basically, using the oldest food/ingredients first, helps keep them from expiring and going to waste. This also makes certain your establishment always has the freshest ingredients on hand.
Create Daily Specials. Speaking of using first stocked ingredients first, Daily Specials keep food from going unused and going bad. Get crafty with great special dishes that get them out to your customers before wasting dollars tossing out bad items.
Utilize Limited Time Offers. Even if you trim back your menu and remove higher cost items that customers still order, they don't have to entirely disappear due to increased costs. When you promote LTOs, you can feature these dishes at a higher prices to cover your costs.
Reduce Food Waste. Naturally, food waste is unavoidable, however, savvy chefs are creating dishes from left-over by products. For example, leftover meat scraps in the kitchen today, can go into tomorrow's stew, stale bread becomes bread pudding, croutons, and breadcrumbs, while leftover veggie scraps can go into vegetable stock for soups. Lastly, if you can't repurpose leftovers, forge a relationship with a local food bank or shelter. While you're doing good, charitable food donations are also tax-deductible.
Negotiate with Food Suppliers. Just like you, suppliers are also navigating the current business climate. See if you can buy in bulk and take delivery in multiple shipments, negotiate special pricing, or consider alternative ingredients. Shop around to see what other suppliers can offer and if you like your current supplier, see if they can price match any better deals.
Update Your Menus & Pricing. Once you understand what things cost and what increases and changes should be made, it's imperative that you update your menus. This includes all menus, specialty menus, take-out menus, plus any online pricing (both on your website and on delivery apps). Additionally, take into consideration your best-selling and most profitable items and optimize your menus applying tried and true methods, based on consumer behavior and other factors. Keep in mind that having a huge menu with too many options can work against you. Focus on what customers order and enjoy. Menu engineering is a way to assess the profitability and popularity of menu items to aid in cutting down selections as well as where to place them on the menu – hence, an optimized menu!
Don't lose another dollar, update your menus today. MenuWorks creates winning menus for restaurants of all sizes. To learn more about updating your menus, including how we can provide insights and assistance with menu optimization, contact one of MenuWorks' experienced account managers. Be sure to This email address is being protected from spambots. You need JavaScript enabled to view it. of menus for reference and inspiration. For convenient one-stop shopping, MenuWorks offers expert design services; ask for samples designed by our talented in-house team as well.