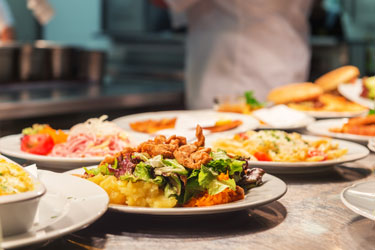 Menu Checklist:
Menu Must-Haves for Success
Simply having a menu versus having a menu that is both appealing and works for your establishment are two very different things. Below, we briefly summarize the essentials for create a winning menu; one that engages your customers and helps bring in more dollars to your business.
Attractive Design
An attractive, easy to navigate design with carefully planned sections and headings, using color, callouts, crisp photos, clean typefaces, plus well-written descriptions will always make your menu meaningful.
Tasty Tips:
Have your menu professionally designed for the best results possible.
Update menus to keep up with the look/feel of your establishment – keep menus current with the latest logo, taglines, and colors you are using.
Keep your menu layout clean and easy to read with easily identifiable headings.
Optimized Menu Items
Menu optimization takes your menu pricing (including food & labor costs) into consideration and reviews any data you have on the profitability and popularity of your menu items to determine what items should comprise your menu and how they are organized.
Tasty Tips:
Even if lacking complete data, you can optimize by determining: 1) your most popular items, 2) items that are quick and cost effective to make, and 3) items with higher profit margins.
Draw your customers eyes to your most profitable items by positioning your most profitable/high margin items at the top left, top right, and center of your menu.
Ditch the dollar signs next to prices – don't remind people they're spending money.
Appealing Photography
Photos are a terrific way to enhance your menu and provide appetizing visuals of what's to come. First things first: Using a bad photo or one that looks nothing like the dish is worse than no photo at all. Fortunately, today's smartphones have exceptionally good photo capabilities enabling you to easily shoot attractive menu photos. Reminder: Lighting is everything! Even if you're not a pro, you can simply use natural light, (shooting by a window or outside) planning your shoot between 10am or 3pm, for optimal, softer light to help prevent unattractive and distracting shadows. If daylight isn't an option, one overhead light source can provide the best light for your menu shoot.
Tasty Tips:
Use a tri-pod, even with your cell phone, for steady, fuss-free photos.
Shoot at an angle to help show depth, offer variations in lighting, and make your selections more visually interesting.
Simple, inexpensive editing programs/apps let you tweak your pics for menu-worthy results.
Cleanliness, Always
Nothing turns off customers like a dirty menus. Just as you strive to have clean table surfaces, silverware, and dishes, your menus have got to be clean. Now more than ever, diners are mindful about the cleanliness of the establishments where they choose to spend their dollars.
Tasty Tips:
Waterproof laminated menus can be easily cleaned in between uses to assure guests a positive start to their dining experience.
Laminated menus featuring the antimicrobial Microban® directly built into the menu surface are easily to clean and inhibit bacterial growth that cause stains and odor.
Be sure to periodically check menus to discard any that are stained or torn.
Don't Forget To-go Menus
Paper to-go menus are an essential part of your continued business. While it can be a more simplified version of your regular menu, it should capture the spirit of your brand, be designed to optimize profits, and be easy for customers to use as well. Be sure to create your new to-go menus in tandem with your inhouse menu creation or redesign project for a seamless ordering experience with correct items and pricing for your patrons dining in or out.
Creating a smartly designed, engaging menu takes a little bit of effort but is cost-effective overall as it will help reap greater returns. If your restaurant is looking for well-designed, optimized menus, contact one of MenuWorks' experienced account managers for more ideas and to This email address is being protected from spambots. You need JavaScript enabled to view it. of menus in various styles and sizes for reference and inspiration. MenuWorks also offers expert design services for convenient one-stop shopping, so be sure to ask for samples designed by our talented in-house team as well.