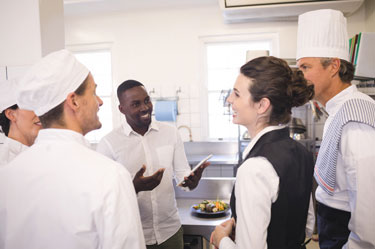 Employee retention: What's the cost?
Employee retention is important to any company, but especially to restaurants. Many owners may not have considered the cost associated with training a new employee and how it impacts their bottom line. While someone is training the new hire, the trainer isn't as efficient and the new hire is unproductive. New hires will make mistakes, and until they're fully trained, won't function as fast as your experienced staff. They may also be less likely to upsell your more profitable products to clients.
A restaurant with 20 staff members, operating at an 80% churn rate (industry reports say the true churn rate is actually as high as 114%!) with a training cost of only $1,000 would have to sell an additional $160,000 to compensate for the cost, assuming a 10% margin.


Hiring the right people is certainly the first step but there are other points to consider once you've made that decision. Having a formal on-boarding process should be part of your hiring procedure. This will help the new member feel part of the team and set a level of expectation for which they will be accountable. Here are a few ideas:
Welcome the new member with a letter
Provide a list of other staff and their roles
Assign a mentor (not just a trainer)
Inform staff
Provide a facility tour
Review responsibilities and objectives
Set date for 1st evaluation
Provide guidance on up-selling
Assign an employee shadow mentor
Scheduled performance review
Evaluation input of onboarding process
People don't want to come to work to survive, they want to thrive. In addition to a good onboarding program for the new hire, regular communication with the entire team will help them feel part of the restaurant's success. Good employees want to be challenged, held accountable and rewarded. This will also keep everyone focused on the objectives you have set as an owner or manager. Celebrating "wins" is also a great way to generate teamwork. A win might be a significant increase in sales in a month, great reviews on social media or success in helping a local fundraising event. It's management's role to find a viable reason to celebrate and use that information to celebrate a great team.
Summary
Employee retention has a direct impact to a restaurant's bottom line. Instituting a formal onboarding and training process combined with ongoing team building management can have a positive effect on profits.
Additional sources for information and ideas:
About MenuWorks®
MenuWorks® was founded in 1994 with the mission of providing independent restaurant owners with affordably priced menus that were creative in design and unique in construction. Today, we offer a full turn-key experience that is unique to the market that can assist with all your menu & restaurant marketing needs. Our customer base now includes independent restaurant operators, multi-unit & franchise restaurant groups, hotel properties, and ad agencies located in the US, Canada, Mexico, Latin America, Central America, South America, and the Caribbean. From building and developing your brand, to maximizing menu profits, our team of consultants is here to help. Call us at 864-877-7007 today!