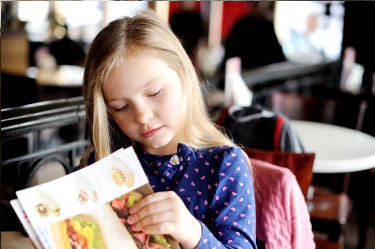 Competing with Fast Food
If you're in the restaurant business you're well aware of the trend toward fast-casual dining. A good definition might be "sit down dining at the customer's pace." An increasing number of surveys show dining customers are looking for something between traditional fast good and fine dining with many of the attributes associated with each.
What's in it for them?
Fast-casual diners aren't looking for super speed as much as other values. A survey by the American Customer Satisfaction Index (ACSI) noted that diners select this type of dining because they feel:
1. They can have a dining experience at their pace
2. The ingredients are fresher
3. Menus are more developed
4. They will receive better service
In addition to the food, diners are looking for a more interactive experience, something hard to find at a drive-up window. They feel big fast-food chains lack the" local feel". They want fast service, but not to the extent they feel like they're ordering off an assembly line. And they want consistency. Granted, a Big Mac tastes like a Big Mac wherever you go, but fast-casual diners want higher value with consistency of food and service. Fast-casual diners lean toward dine-in restaurants with menus that offer items free from artificial ingredients, flavoring, colors and sweeteners.
Marketing your difference
Fast-casual restaurants competing with fast-food chains need to look at their competitive advantages. What strengths make you different? And, by the way, cheap is NOT considered to be a competitive advantage. Do you have a great location or perhaps a unique menu selection? Does your menu have gluten-free items or other healthier options? Does your restaurant have an obsession? Something your entire team is passionate about? If you're not sure of your competitive advantages, you may want to perform a SWOT analysis with your team members. A SWOT analysis lets you brainstorm your strengths, weakness, opportunities and threats. This is a great method to learn about your restaurant and your competition. Once you've determined what makes you different, you can use those value points in your marketing. (Don't forget millennials eat out more often than other buying demographics.) When planning your marketing, keep in mind that you have external and internal marketing. External marketing may include direct mail using plastic postcards with coupons, signage, social media handles and more. Internal marketing includes your menu, table tents, apparel and indoor signage. Your printed menu is your primary internal marketing tool. It's what you do and who you are. It should be designed with high color graphics and optimized to promote your high-profit items.
Summary
If you're competing with fast food chains, figure out what makes you different. Consider why someone visits your competition and why someone chooses your restaurant. Define your values and develop a list of competitive advantages to layer into your marketing. Be consistent with your internal and external marketing. And don't forget that your printed menu is one of your most powerful marketing tools.
About MenuWorks®
MenuWorks® was founded in 1994 with the mission of providing independent restaurant owners with affordably priced menus that were creative in design and unique in construction. Today, we offer a full turn-key experience that is unique to the market that can assist with all your menu & restaurant marketing needs. Our customer base now includes independent restaurant operators, multi-unit & franchise restaurant groups, hotel properties, and ad agencies located in the US, Canada, Mexico, Latin America, Central America, South America, and the Caribbean. From building and developing your brand, to maximizing menu profits, our team of consultants is here to help. Call us at 864-877-7007 today!