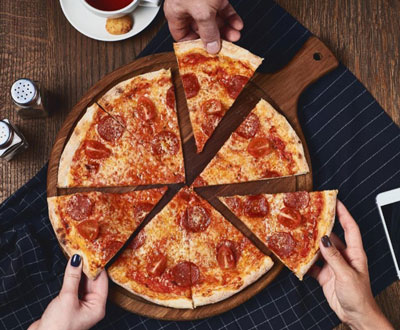 Mangia! October is National Pizza Month
Saucy, cheesy, delicious, and available in oh so many creative combinations, it's no wonder why there's an official annual celebration of pizza!
National Pizza Month was first created in 1984 by publisher and pizzeria owner Gerry Durnell to mark the debut of his magazine, Pizza Today. Three years later, in 1987, the United States Congress officially declared October as National Pizza Month.
Americans have been enjoying pizza since 1905. Lombardi's in New York City is known to have been the first pizzeria in the country, however, research has revealed Filippo Milone, who emigrated to the United States in the 1890s, may well be the father of U.S. pizza. Some say Milone likely founded six pizzerias, including the one Gennaro Lombardi took over. Lombardi's, still in business today, is credited with developing New York-style pizza. No matter how the legend goes, any way you slice it, Americans love their pizza and 38 years since its inception, National Pizza Month is still going strong.
Dig In: U.S. Pizza Stats
Ways Your Pizzeria or Restaurant Can Celebrate
In October, pizzerias and restaurants around the country celebrate with various marketing and menu promotions. Below is just a hint of what you can do. It's National Pizza Month so let your imagination run wild with fun ideas that please customers and your bottom line.
Daily, weekly, or monthly deals
Buy one, get one offer
Kids specials
Pizza eating contests
Gift card discounts
Social media contests
Special-priced pizzas or slices
You'll need engaging materials for National Pizza Month and beyond. Below are ways you can incorporate eye-catching inserts for LTOs, plus gain inspiration and momentum for planning needed, new menus to enhance sales and also offset any rising costs.
Pizza Specials Require Special Attention
Drive sales with special promotions and limited-time offer by utilizing sleeves and pop-in pages. We also offer table tanks (our sturdier version of the table tent) to draw attention to specials as customers sit at their table or pay at the register. Inserts and table tanks are also a terrific way to promote gluten-free and vegan options and to provide every customer with a variety of options at your establishment.
Salute Your Slices & Pies with New, Optimally Performing Menus
Let National Pizza Month inspire you to make the necessary change for the better. Update old pricing, add or remove items and draw diners to more profitable dishes with great-looking, affordable, and easy-to-clean laminated menus. Colors and images pop from the sleek laminated pages, giving your customers an easy, more inspiring way to order. Reorganizing your menu and updating prices will pay off as you highlight guest favorites and specials. New, optimized menus can pay for themselves, and the durability of laminated menus offers long-lasting use.
Get your slice of the pie with new menus and inserts! MenuWorks creates winning menus, inserts, LTO pop-in pages, and table tanks for pizzerias and restaurants of all sizes. To learn more about how we can provide turnkey services and expertise, contact one of MenuWorks' experienced account managers. Be sure to This email address is being protected from spambots. You need JavaScript enabled to view it. of menus, table tanks, and pop-in pages, including ones created by our expert in-house design team, for reference and inspiration.
---
RESOURCES:
1 Kelton Global, an online study conducted for the brand Caulipower
2 Packaged Facts, provider of market and consumer research
3 NAPO, National Association of Pizza Operators
4 Statista, provider of market and consumer data